Our products are not always a one size fits all. This is why we offer the ability to customize your personal portable building to suit your needs! With several styles, sizes, and options to pick from our sheds in Missouri can be personalized exactly the way you like. Sometimes this can be a bit overwhelming when you see all of the colors, roofing materials, designs, and so much more! How can you be sure what is right for you?
You don't have to worry because we are here to help!
Our sales experts in Sheds at Missouri are well trained in everything we have to offer and full of recommendations. We will walk you through the process completely asking several questions along the way to get you where you need to be. So don't stress because we make it SIMPLE!

Here is one way that the design of your portabke building can make ALL the difference for you. Certain design choices may look nice, but may also take away from the usability and space efficiency that will give you the biggest bang for your buck. That is why we are here to help. With years of experience and seeing thousands of designs we can help guide the way to your perfect and long lasting portable building!

Take a look at our Side Lofted Barn Cabin
The standard design of this building is beautiful! This portable structure would look great in anyones yard or garden or even on the lake or the farm! It is definitely one of our eye catchers. This cabin comes with a 12' long porch that is 4' deep with two 2x3 windows, one on each side of the door. As you walk in you will notice a small space inside the building on the side where the porch is that can be used for a mud room, a small kitchen possible, or maybe something else if you are creative! But let's take a deeper look into the space usability.
The interior of the Shed Design
Everything that you see in green is your interior useable space. The red is the space where the door will be taking up to open. With the amount of space that the door takes up in that smaller section of your cabin that takes away a lot of the options for you on what you can use this space for. So although the design looks nice, it may not be the most efficient use of space in your shed or cabin. So let's take a look at other options we could try by building you a custom building that would suit you!
Many Options in this Shed for sale in Missouri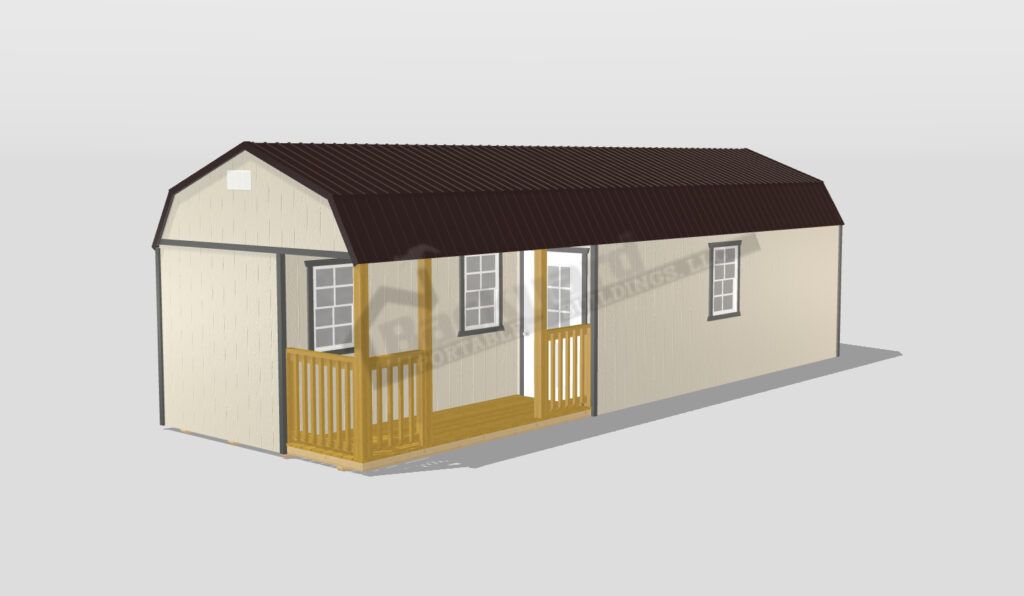 If we instead move the door from its original position to the wall right next to it you get some different advantages. You still get a great looking building, but it does something more for you inside!
Now instead of losing many options on what you can do in the smaller space, you have your portable building opened way up on the inside! Just by moving your cabin door to the smaller wall your usable space has dramatically increased and your options have gone up to using this area for a bedroom, changing room, bathroom, full kitchen, or even a large closet or storage area! The only space you lose out on here is the small corner where the door swings open.
This is just one of many ways a small change in design can greatly affect the space efficiency of your portable shed, cabin, or utility garage! And although certain designs may look very nice, they are not always the most practical. But keep in mind that it is your shed and we can move windows, doors, add, and take away from your building because at the end of the day you are the one that will be looking at it.
So let's work together and get you the portable building of your dreams! Contact us