The short answer is yes! You can build your own storage building in your backyard. However, it may not be worth your time and safety. When it comes to the construction of a portable building many different skills and several hours of intense labor are needed. Not to mention the safety precautions of using tools like nail guns, hand saws and chop saws. Below is the process we at Backyard St Joseph use in order to construct the high quality storage buildings we bring to our clients.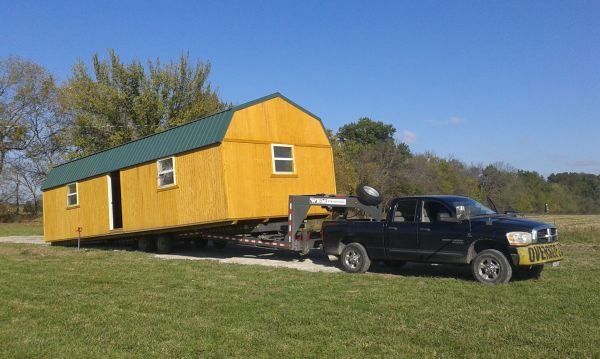 The Base of Portable Building
Our portable building constructions are started by laying down 2-4 wooden skids depending on the size of the building. These are 4x6 treated lumber skids that give the storage shed its strong base required to support the several thousand pounds of material that are going to be used. After that, several 2x4 or 2x6 floor joists made of treated lumber are laid across the skids horizontally where they rest in a ½" notch cut and are nailed down with nail guns. All of these are on 16" centers except our garages which are built on 12" centers. The flooring is then laid down on top of this and nailed down as well. For flooring we use ⅝" Advantech plywood that comes with its own lifetime warranty.
The Portable Buildings Walls
Once the floor and base of the storage building is complete, 2x4 wall studs on 16" centers are laid down along the edges of the building. We use a single bottom plate and a double top plate. After the wall framing is complete and nailed down, we use LP Smart Siding as our siding of choice to cover the exterior.
The Roof
Depending on the type of building, we start with either the loft or trusses to build the roof. If the building has a loft, we lay down 2x4's horizontally across the top of the double plated wall studs to act as support for the Advantech Plywood that is the floor for the loft. After this we set up custom sized trusses which are then nailed down as well. On top of the trusses we nail down 7/16" OSB. Once this is secure we can begin the process of adding the shingles or metal panels depending on the roofing our client has chosen.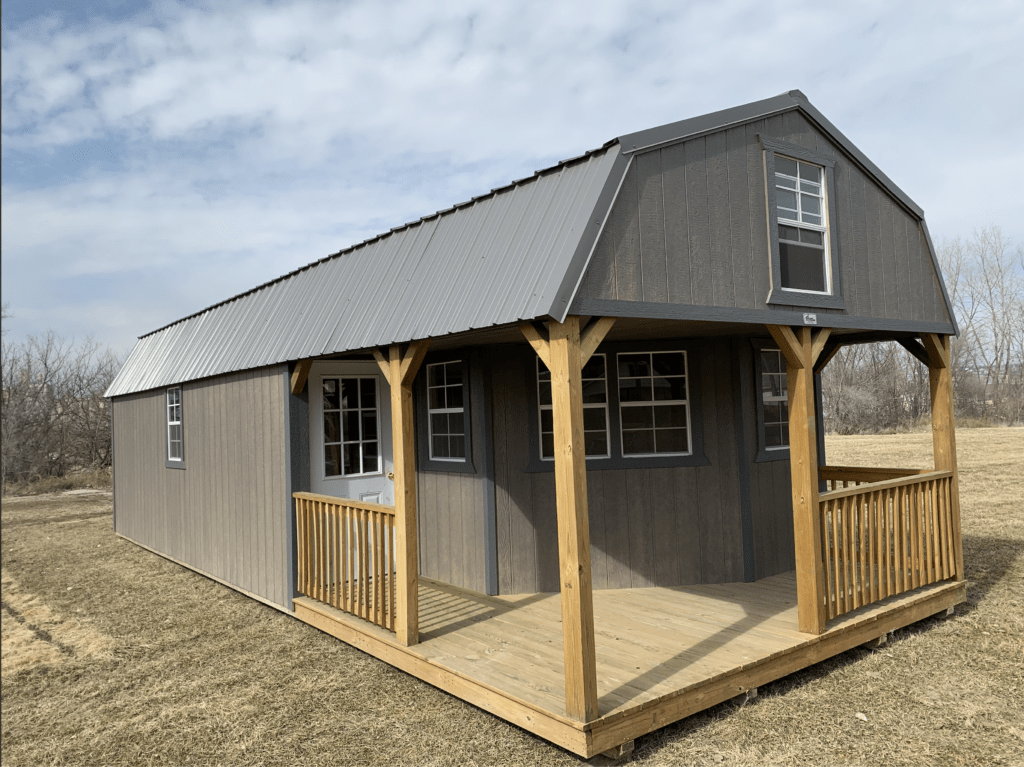 Why should you order your storage building from us instead?
As mentioned previously, experience with woodwork and these kinds of tools are necessary to build a portable building that reaches an excellent standard of quality. Your safety, time and getting your money's worth is something we value here at Backyard St Joseph. When you order a Portable Storage Building from us you get to benefit from several different perks and services. These include the following:
FREE Portable Building delivery and installation in St. Joseph Missouri 
Rent-to-Own no credit check
5 year warranty on craftsmanship
Lifetime warranty against decay and termite
40 year rated metal roof 
30 year rated Tamco shingles
Wide variety of colors to choose from
Wide variety of styles and sizes to choose from 
Our Best Sheds with Porches in St. Joseph Missouri
The Cabin, The Lofted Barn Cabin, The Wrap-Around Cabin, The Wrap-Around Lofted Cabin, see all of them here.